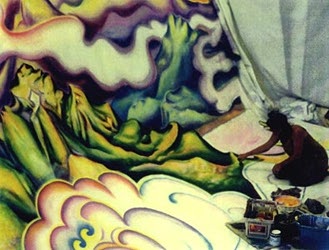 Concerning "SANCTUARY OF TRANSFORMATIVE ART AND SCIENCE"
Situated on Maui, on the slopes of the ancient crater Haleakala
As a young girl, the sacredness of Nature, divine Spirit residing within all beings, awakened experiences of Primordial Mother, embodiments of goodness and spacious equanimity. Thus I was inspired to create sacred art that became vehicles of Healing.

His Holiness Karmapa told me; ¤Be true to your own style, study the oldtraditions and work on the transition from the old to the newË. Gratefully Ireceived invitation to paint murals of Shakyamuni Buddha╠s life on the walls of aTibetan Temple in Bodhgaya, India from 1984-1987, and the ceilings of theOrchestra Hall, Detroit 1988, also murals on Donald Trumps "Taj Mahal", Atlantic City, late 1980s. Apart from Public Art murals, I am inspired to create paintings on canvas

My wish is to dedicate many sacred art paintings to the "Sanctuary ofTransformative Art and Science". These paintings have been blessed by great Teachers such as His Holiness Dalai Lama, H.H. Dudjom Rinpoche,Venerable Sakya Dagmo Jamyang Palmo, H.H. Karmapa, Ven. Kalu Rinpoche, Ven.Deshung Rinpoche, Ven. Jamgong Kongtrul Rinpoche. By contemplating the Deities, one can experience healing of body, speech andmind. Some paintings depict endangered birds and animals. Also honoringancient traditions, dreams and portraits of Saints. The Sanctuary will be open tothe Public, so the paintings will have a useful purpose and inspire many peoplefor generations to come.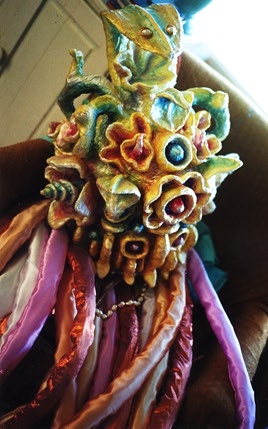 I have seen similar Sanctuaries created by artists such as Nicholas Roerich. When visiting his Sanctuary, one experiences healing and comfort. Since I receive letters of appreciation concerning these works of art, I decided not to sell them to private collectors, but to dedicate them to a public Sanctuary.
I choose Maui as the location for the Sanctuary being enchanted by the beauty and serenity of this lovely island in the middle of the Pacific, bridging East andWest. Many people, seekers of healing and inspired visions, arrive on these shores.These are my aspirations: to inspire the Transition, the coming together of Peoples of divers traditions and lineages, thereby creating peace and understanding. A dedication towards World Peace.
Towards the aim of actualizing these goals, on the slopes of Haleakala, amidst quiet and glorious scenery, excellent future building sites have been revealed.
I visualize the Sanctuary as a spacious and simple, rectangular building, with a Hawaiian style roof and designs that express the universality of the living Spirit.Architectural motifs that honors the best of both ancient traditions and modern perspectives. Along one side of the building, I will paint a mural depicting "The coming together of the people".
Visitors can acquire prints, books, Gicle╠es etc. A fund will be established, to improve environmental education on the island, the preservation ofendangered birds, animals and forest. Also supporting the preservation of ancient cultures.
Inside the main hall will hang inspired artworks. Artifacts. representingdiverse, ancient traditions will be exhibited. Guest exhibitions of contemporary Visionary Art will be arranged.
Underneath the verandah are studios where classes will be given to teach traditional art, the art of healing and the art of science, environmental education and the Science of the New Millennium - creating alternative energies of a benevolent nature, thereby inspiring the expansion of consciousness amongst all Beings. Teachers will be invited to give lectures in the Sanctuary╣s main hall Performances of sacred theater is envisioned, under the guidance of "Samye Dance and Theater Company" (see page on Samye). The performances will take place in the main hall and in an outdoor Arena.

A caretakers building and a parking place for visitors will be built on the land.
Now at this crucial point in human evolution, together we can create bridges between the terrestrial and the celestial. Thus by conscious recognition, the "Sanctuary of Transformative Art and Science", will be a non profit Trust with a Board of Trustees. The Sanctuary will be secured legally, so the land, buildings and artworks will remain as a Sanctuary as long as nature allows them to last, hopefully for many generations to come.
Perhaps by listening closely to these inspirational ideas, you too will wish to contribute in some way towards the manifestation of this vision.
May peace come to this planet.
May our brightest dreams manifest in divine order.

May happiness and wondrous blessing prevail.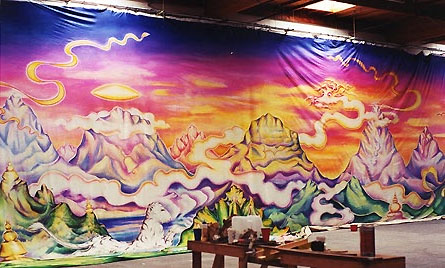 ALOHA NUI LOA from Marianna
For more information, please contact:
Marianna Rydvald at Dakini Unlimited
PO Box 445
KULA, HI., 96790,
USA
Tel: 808 573 3499
Fax: 808 878 4185
E.mail: dakini@maui.net or dakinima@hotmail.com
Web: www.dakiniunlimited.com