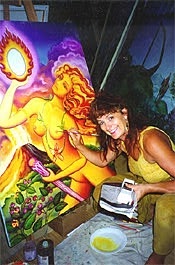 Dear Friends, Aloha Greetings from Hawaii!
Thank You for the opportunity to share these visions. Hopefully they will inspire the manifestation of the Good Heart. Since the early 1950's I have painted Mother Deities such as Tara, symbolizing qualities born from infinite Love and Tenderness, thus evoking Spacious Equanimity.
Innumerable women have been repressed for ages by warlords and patriarchs. I feel so saddened when experiencing this error of humankind. Millions of people have died horrible deaths in the name of religions and millions of women were burnt during the Inquisition. There is much ignorance and there is much fear. May we all advance in forgiveness.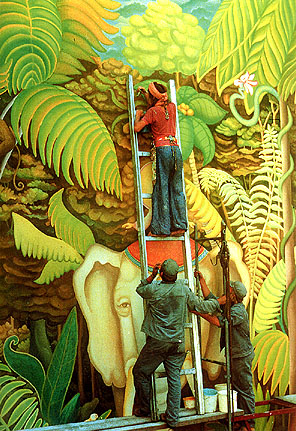 May we courageousely cast aside all dualistic clinging, as used garments, transforming them into magical embodiments of Truth. What else can we believe in than Goodness itself. Divine Father God and divine Mother Goddess are the sublime raidance of compassion and wisdom, clarity and bliss. Do not separte the two, but experience them as One, in spaciousness within all beings. Thus we diligently strive to awaken Wisdom and Compssion in our Heart.
Jai Ma
All concepts, fabrications of the mind eventually need to vanish, as snow melting in springtime; And we may bravely go forward as liberated beings, filled with Clarity and Light. As such beings, we will perform enlightened activites, for the sake of all beigns.
Great Spirit is Beyond Duality,
Awaken Reverence for Primordial Mother, Vibrant Space
Establish Equanimity.
OM AH HUNG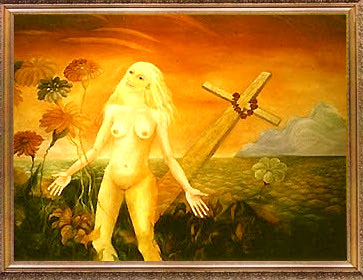 "Resurrection" - painted at the age of 16
OM GATE GATE PARAGATE PARA SOMGATE BODHI SWAHA
ALOHA NUI LOA